DJI OM 4 vs Osmo Mobile 3
What's Changed? Other than the Name.
The DJI OM 4 is the latest release in DJI's line of smartphone gimbals designed specifically for iPhone photographers and filmmakers. DJI has made a transition away from the previous Osmo Mobile product line with its renaming of the DJI OM 4. For those of you who are familiar with DJI's Osmo collection, you might be wondering… other than the name, what's changed?
Apart from a product line rebranding the new DJI OM 4 has both physical and technological updates from the Osmo Mobile 3 that are worth noting.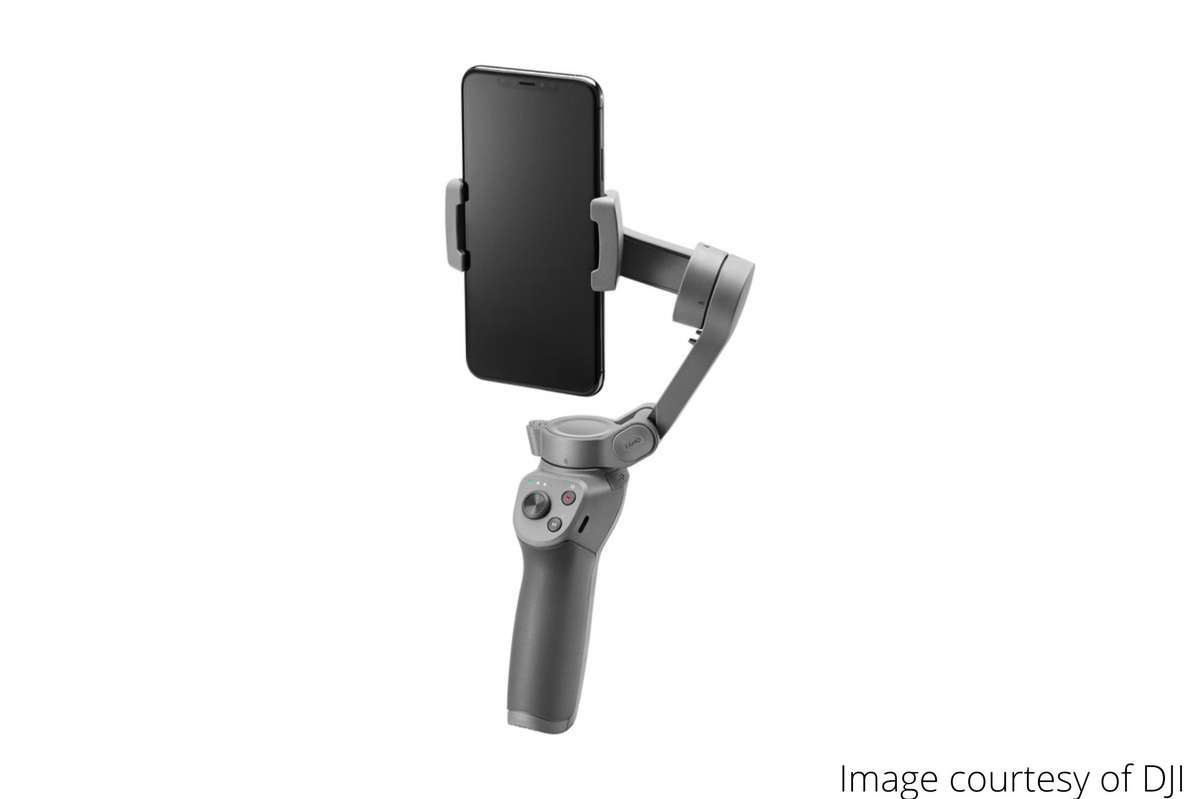 New Design
Many of the key design features of the Osmo Mobile 3 have been carried over to the OM 4. This includes the three axis stabilization technology that sets DJI's camera stabilizers apart from their competition. The new model maintains the lightweight and foldable design like we previously saw in the Osmo Mobile 3. However, the OM 4 comes with two new breakthrough design features that set a new standard for iPhone stabilizers.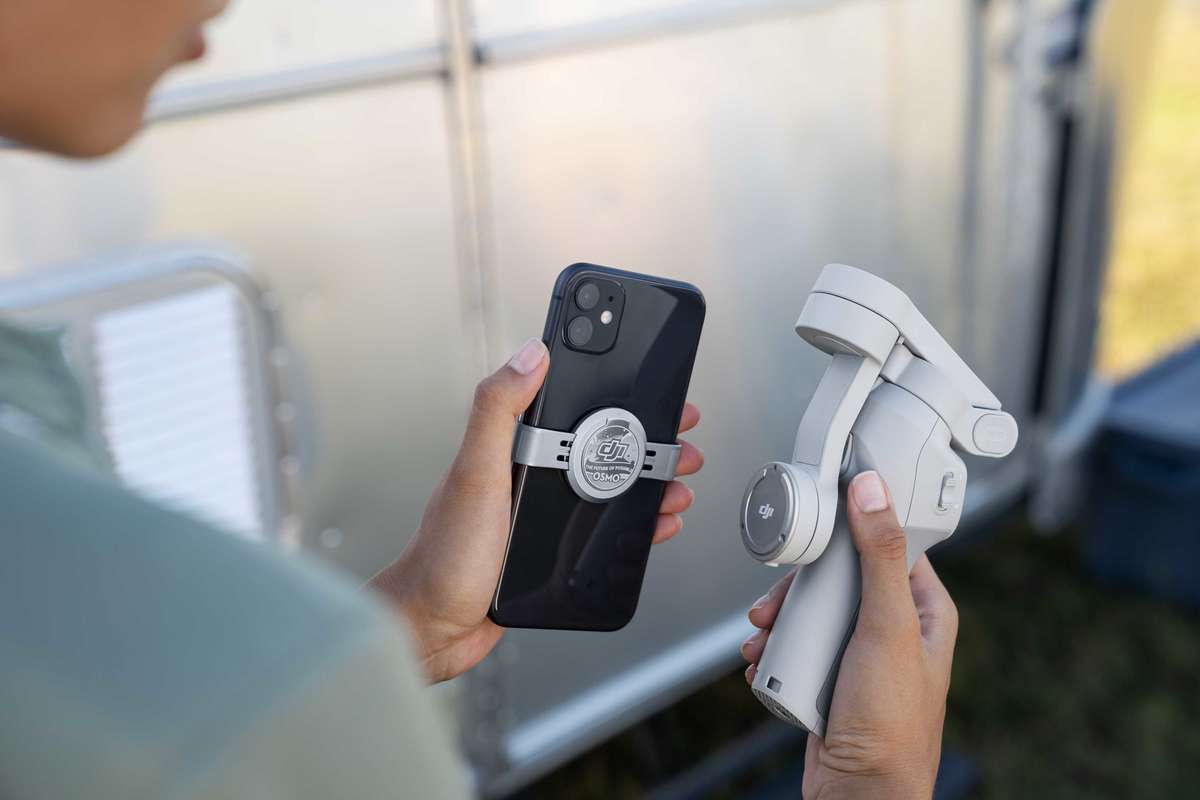 Magnetic Design
The most significant design update made from the Osmo Mobile 3 to the DJI OM 4 is the new mounting technology. With a brand new magnetic mounting system the OM 4 makes mounting and detaching your phone easier than with previous models. The new gimbal comes with a magnetic clamp and magnetic ring holder that effortlessly latch onto the DJI OM 4 for quick and easy setup.

The upgraded magnetic quick-release design focuses on increasing convenience and decreasing time spent setting up. One of the biggest challenges faced when using a mobile gimbal is that once your smartphone is locked in its virtually inaccessible while shooting. The new magnetic mounting system solves this issue with its quick-release mount and auto calibrated gimbal arm.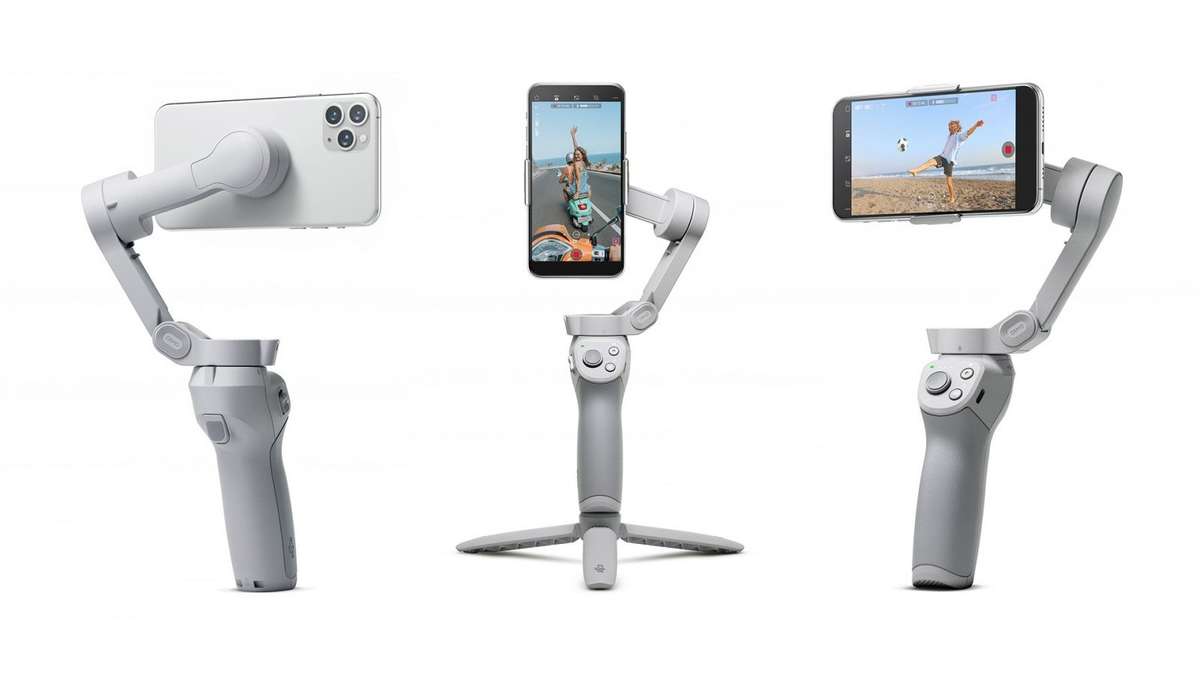 Heavier Phone Support
The DJI OM 4 also features a new high powered motor. Now the stabilizer is able to mount heavier phones then compared to the Osmo Mobile 3. The new motor can support up to 290 grams. With better support and more options the new gimbal offers a more versatile and seamless experience.

The addition of more powerful motors also aids the DJI OM 4 in balancing itself. In combination with the magnetic quick-release mounting system and new and improved motor support, the gimbal no longer needs to be balanced before using it. However, if balancing issues do occur the DJI Mimo App provides a Gimbal Auto Calibration and Horizontal Gimbal Adjustment.
New Features
The OM 4 continues to provide many of the same features as the Osmo Mobile 3 such as Slow Motion mode, TimeLapse, Gesture Control and more. In addition to these features the OM 4 comes with updates to its Active Track 3.0 as well as other intelligent modes. However, the OM 4 does set itself apart with six exciting new features.
Motion Lapse
The Osmo Mobile 3 provided many of the staple shooting modes we all know and love such as Timelapse, Hyperlapse, and Slow Motion Mode. However, for the first time ever with the release of the OM 4 we are introduced to Motionlapse.

What is Motion Lapse? Motion lapse is similar to your typical timelapse with one key difference. Like shooting with a timelapse, the motion lapse function will record your subject over a period of time. However, when recording a timelapse your gimbal remains stationary.

The motion lapse feature incorporates the motorized arm of the gimbal to move your smartphone to various designated points. What does this do? It creates a more dynamic and appealing timelapse that captures movement.

3x3 Pano eliminates the need to edit panoramas by combining nine images into one extra wide angle shot. This new feature saves photographers time in post production editing. Using the 3x3 pano function streamlines the creative process. Now all that you have to do to capture epic panoramic images is set your shoot mode, take the pano, and carry on!

240° Panorama is similar to the 3x3 pano because it also produces a super wide angle view. However, instead of combining 9 images together it instead shoots a 240 degree wide angle shot. The gimbal does this by rotating the motorized arm while maintaining stability. Resulting in amazing panoramic pictures of anything around you.
CloneMe Pano
CloneMe Pano is easily the coolest addition to the panoramic capabilities of the DJI OM 4. This feature allows your subject to appear to be in multiple places throughout your panorama. The OM 4 uses the same image combining feature as the 3x3 Pano. But instead of capturing all the pictures continuously, CloneMe Pano pauses so your subject has enough time to move throughout the frame. This feature allows you to create optical illusions and does not require exceptional editing skills.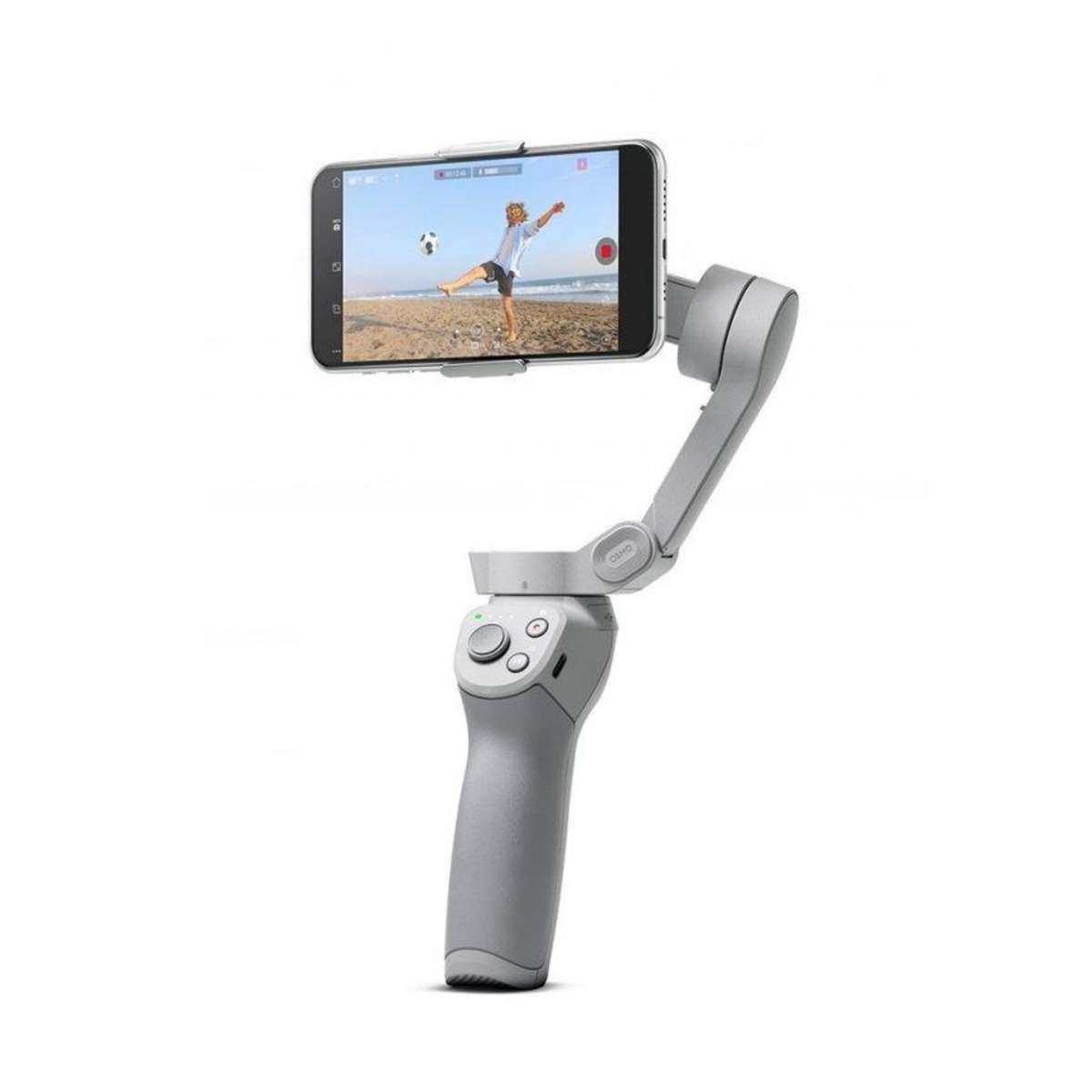 SpinShot Mode
SpinShot mode is a feature specifically designed for the iPhone filmmaker. Using the motorized arm of the gimbal, SpinShot mode rotates your phone while recording a video. This unique addition to the DJI OM 4 is perfect for any videographers. Whether you're shooting action sports or just strolling on the beach SpinShot mode elevates your content.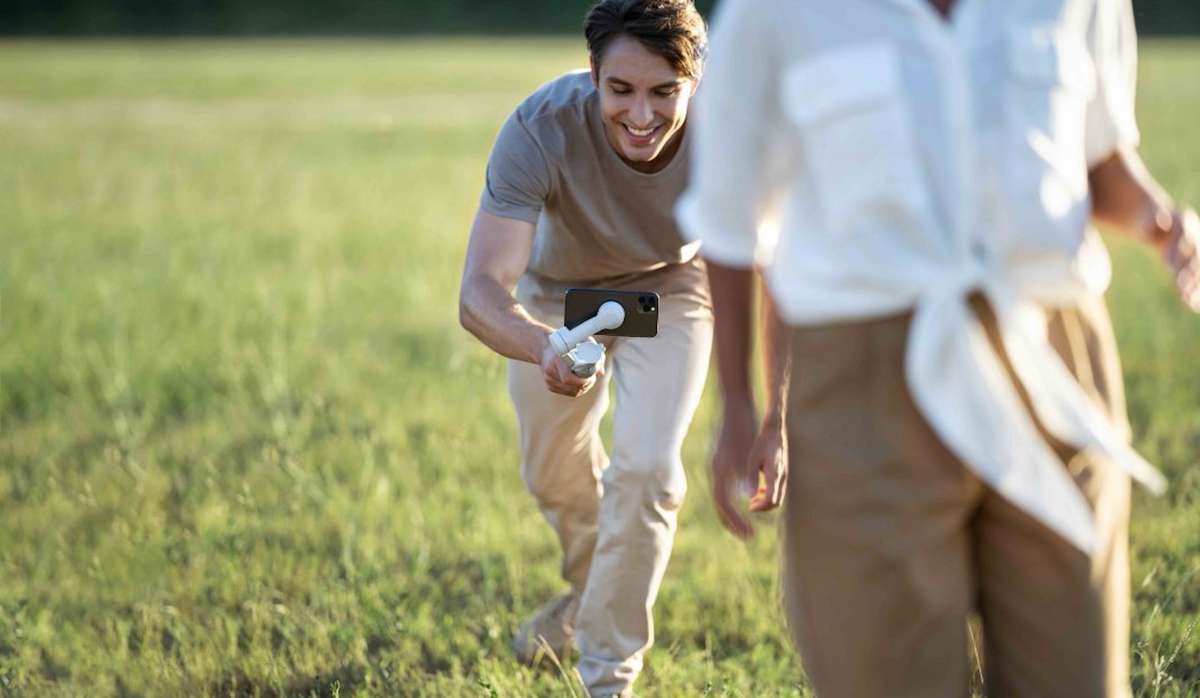 DynamicZoom
The DJI Osmo Mobile 3 introduces us to the Dolly Zoom feature. Dolly Zoom allowed for customizable zoom speeds that created the infamous "Hitchcock effect" all on the iPhone. Now with the OM 4 we are upgraded from Dolly Zoom to Dynamic Zoom.

Dynamic Zoom is similar to a digital dolly zoom feature and requires minimal effort when shooting. With Dynamic Zoom you can move farther away or closer to your subject while the DJI Mimo App automatically zooms in and out. The upgraded zoom function of the OM 4 is a seamless and easy to use feature that adds professional level cinematic drama to your videos.
Important Updates
The DJI OM 4 also comes with updates to preexisting features carried over from previous models. Two of the most significant features from the release of the Osmo Mobile 3, ACtive Track 3.0 and Gesture Control, are now back and better than ever with the OM 4.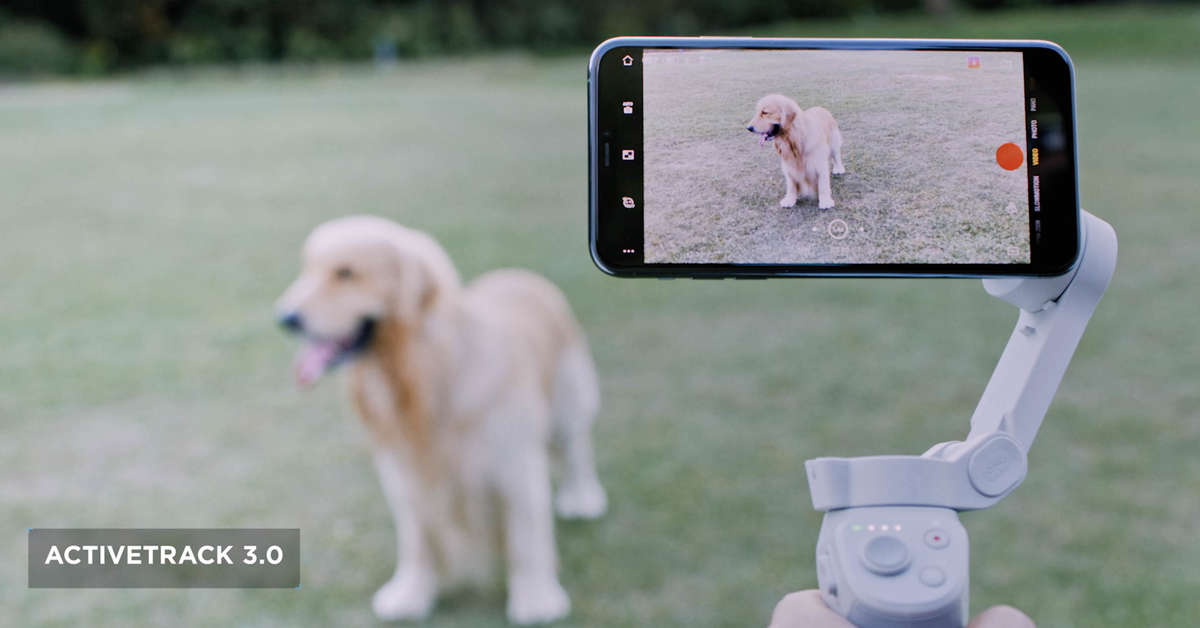 Active Track 3.0
Active Track 3.0 is a feature created for mobile filmmakers who want to use object tracking while filming. While shooting with either the DJI OM 4 or Osmo Mobile 3 Active Track recognizes and follows your subjects movement while maintaining a stable frame.
The motorized gimbal arm controls the direction of the camera so you don't have to. The updated Active Track on the OM 4 has improved recognition accuracy for both children and pets. This guarantees that your subject is always clear in the frame while whether you're at the dog park or a family picnic.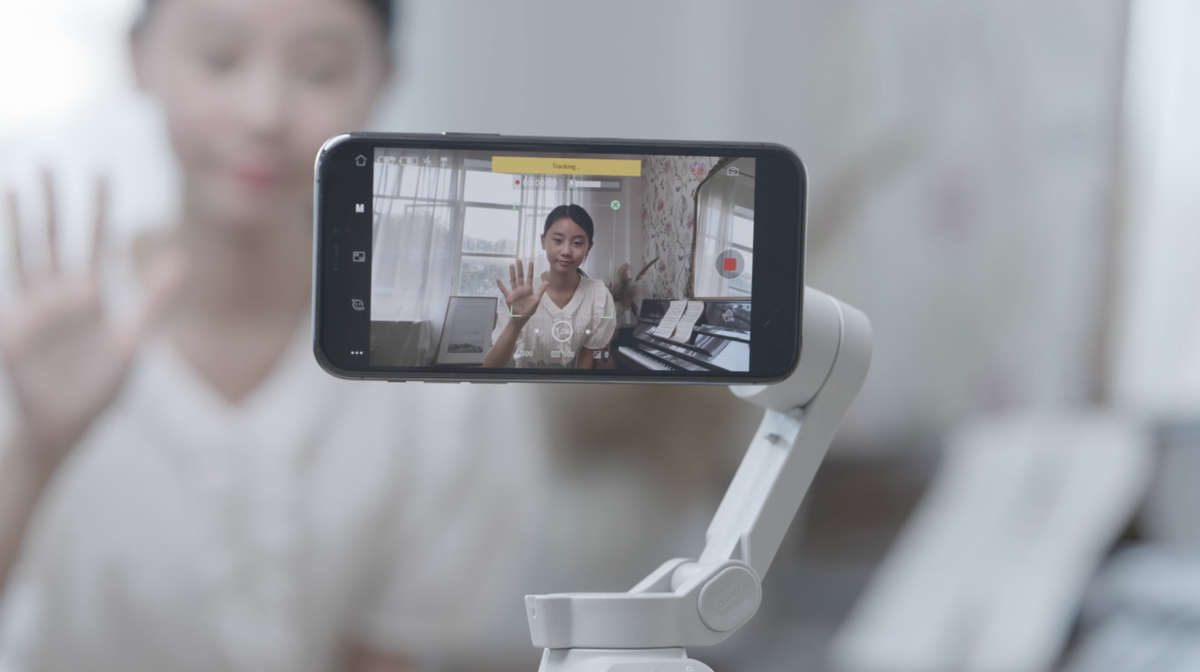 Gesture Control
Gesture Control is one of the most convenient features pre-programmed into DJI's Osmo Mobile 3 and the brand new OM 4. Using a hand gesture you can now signal to your phone when to start recording or to snap a picture.


The days of flagging down a stranger to take your picture are over! The new OM 4 comes with improved gesture recognition that improves control and ease of using the feature.
iPhone Compatibility
With a new and improved motor and magnetic mounting system the latest smartphone gimbal from DJI is now compatible with heavier phone models. The new OM 4 stabilizing gimbal can support 290 grams of weight as compared to the Osmo Mobile 3 which could only hold around 200 grams.
This smartphone gimbal is compatible with iPhone 7 to iPhone 11 Pro Max, including the iPhone 8, iPhone X, and iPhone 11 series. With the ability to support 90 additional grams, the DJI OM 4 creates new opportunities to improve your content. Now, creators can add accessories to their smartphones such as lens and filter attachments that improve the functionality of the iPhone camera.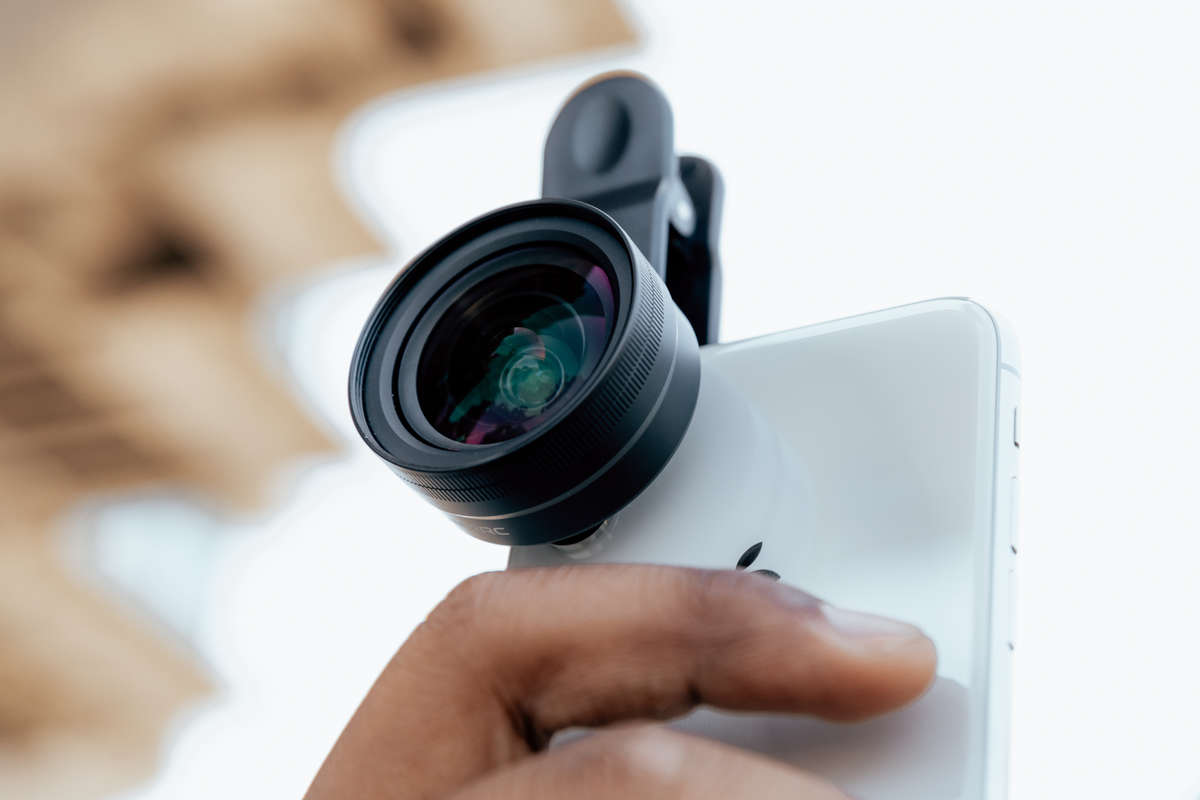 iPhone Lens Attachments
Filmmakers can create cinematic drama using iPhone attachments such as an
anamorphic lens
. This lens uses an oval bokeh and multi-element glass to create lens flares and ultra wide horizontal footage. The new motor on the DJI OM 4 can now support your phone's weight plus the additional lens attachment. However, if you have a larger iPhone model that is already over 200 grams on its own, it's important to find a lightweight attachment.
SANDMARC
designs a variety of iPhone lens attachments from
fisheye
to
macro
lenses.
Polarized
and
Neutral Density
filters can be used with compatible lenses or on their own. Each attachment is created with aluminum which allows for a lightweight design that can be screwed onto your
SANDMARC
case or clipped over your smartphone camera.
Is the DJI OM 4 Worth It?
The DJI OM 4 is the latest release in DJI's line of mobile stabilizers. Its lightweight and foldable design remains consistent from the previous Osmo Mobile 3. Although there are little visible differences between the two gimbals, the OM 4 does have an improved motor and a brand new magnetic mounting system.


Both the DJI OM 4 and Osmo Mobile 3 have intelligent modes such as Gesture Control, Timelapse, Active Track 3.0, Slow Motion Mode, and Panorama. However. The OM 4's pre-programmed features have improved plus it includes additional shooting modes which the Osmo Mobile 3 does not have.
Both the Osmo Mobile 3 and DJI OM 4 are great iPhone stabilizers that are made to last. If you're thinking about upgrading from a previous Osmo model or purchasing a smartphone gimbal for the first time you cannot go wrong with either option. For individuals with heavier smartphones or who want to use lens attachments I would recommend the new DJI OM 4. Due to its high powered motor and quick release magnetic mounting system it can provide a more user friendly experience compared to the Osmo Mobile 3.
Resources
The
DJI OM 4
and
Osmo Mobile 3
are both currently available for purchase at DJI's online store. For more information on the DJI mobile gimbals check out these resources: