How to Use a MagSafe Car Mount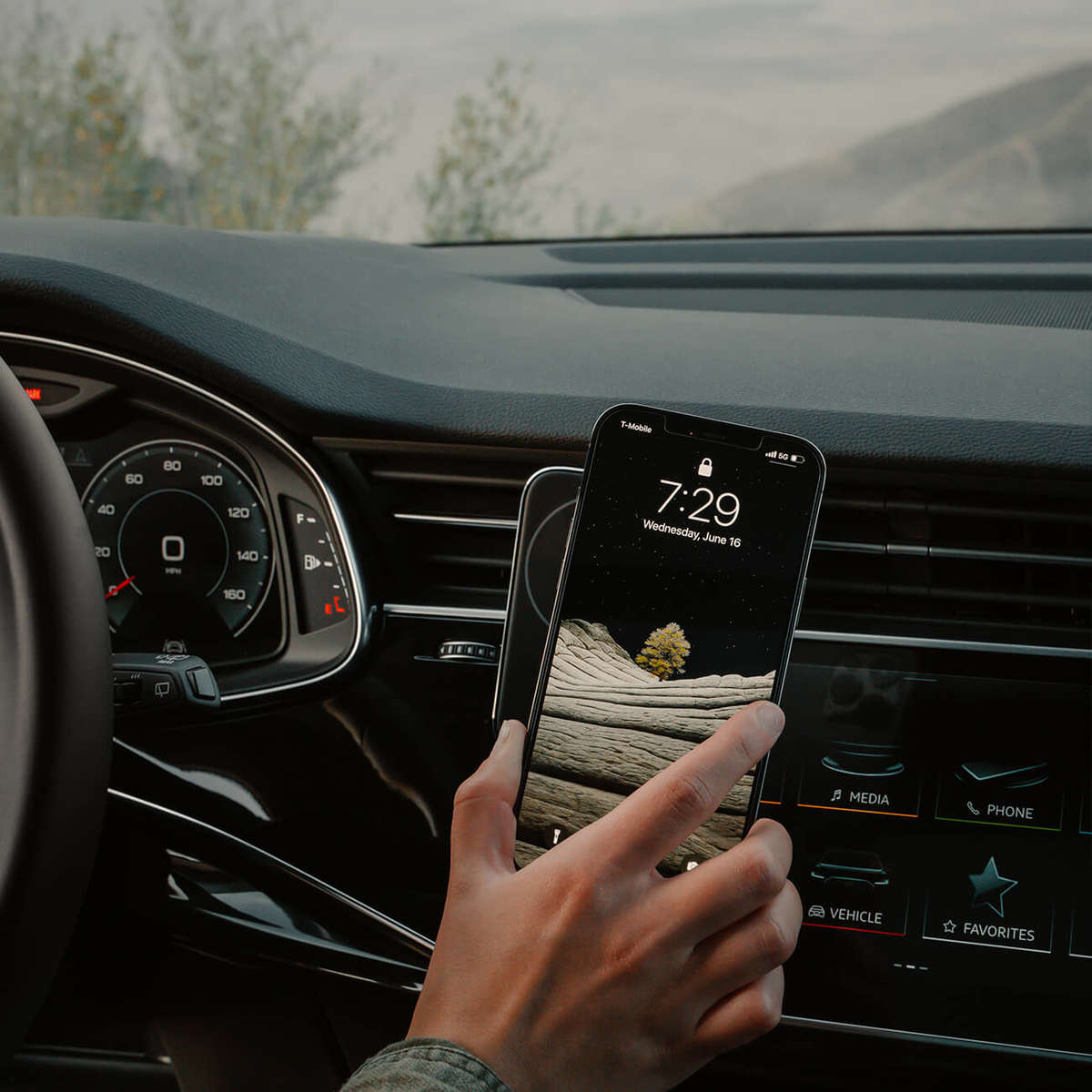 Did you know the iPhone 13 & iPhone 12 were released with magnetic technology engineered into its internals? An entirely new avenue opened for iPhone accessory manufacturers.

Did you also know that the release of this magnetic technology — MagSafe — revolutionized the way drivers mount their phones while on the road?

Today, no longer do iPhone 13 Pro and 12 Pro users have to deal with suction pads that fall off during a long drive. Nor do they have to deal with overly tight clamps that leave their mark on phones long after their car journey is over.

Wireless car mounts using MagSafe are a secure, convenient way to mount your iPhone while driving. You can even charge your phone whilst using them too!

What's more? It's not just the iPhone 12 that supports this technology, it is also iPhone 13 that will support it too (more on that later).

For now we'll explore exactly how MagSafe car mounts work. Are they difficult to attach to your phone? Do they fall off during a long drive — just as the older mounting phone accessories did?

Let's take a look at how to use a MagSafe car mount. Here are three easy steps, which we'll explore more below:

1. Attach the MagSafe car mount to the back of your iPhone 12 or iPhone 13.
2. Securely attach your iPhone 12 to your car's air vent.
3. Plug your USB-C to A cable into the MagSafe car mount.

(It really is that easy!)
Step 1 — Attach the Car Mount to the Back of Your iPhone 13/12
First, if your car mount arrived in two separate pieces (the MagSafe mount and a ball joint), loosen the bolt on the back of the MagSafe mount until the ball joint can fit into it.
Then, retighten the bolt so the ball joint can't fall loose.
Once you have, simply place your iPhone onto the MagSafe car mount.
Note: Some MagSafe Car Mounts will come as one unit and will already have the ball mount attached to it. Get a feel for how secure the iPhone is on the mount. If it appears loose, you might have a case on your iPhone that's incompatible with MagSafe.
Related:
What to Look For in a Magsafe Case
If so, you will have to get a new case or simply remove the case while using your MagSafe car mount.
Once you're confident your iPhone 13 or iPhone 12 is securely attached, you're ready to take it outside to your car.

Step 2 — Securely Attach the Mount to Your Car's Air Vent
Attaching the MagSafe to your car is easy. All you have to do is fit it onto your car's air vent — either on the left or right side of the steering wheel.
Many MagSafe car mounts (including our
Active Wireless Car Mount
) will have an adjustable clamp so that you can control the tightness with precision when you attach the mount to the vent.
Pro Tip: Make sure you remove your MagSafe from the car vent before twisting it into portrait or landscape mode. That's because some cars use plastic air vents, and the strain from turning the MagSafe while attached to the vents can damage them.
Make sure the MagSafe is tight enough that it stays attached, but be careful not to over-tighten the clamp as you'll risk damaging your car's air vents.
Once you're happy with the MagSafe's position on your car's vent, you're ready to go. However, if you want to plug the MagSafe in and charge your phone using the MagSafe technology while driving, the next step explains how.
Step 3 - Plug the USB-C to A Cable Into The MagSafe Car Mount
The USB-C end of the cable plugs into the bottom of the unit, as shown below:
If your car doesn't have a USB-A port, you'll need to purchase a
separate adapter
.
Either way, once the cable is attached to the magnetic mount and your car, you're good to go.
Pro-Tip: Ensure proper cable management so that the USB-C to A Cable doesn't impede your driving. Some MagSafe units will have room for you to wrap the cable around the back of them.
...And that's it! That's about all there is to know about how to use a MagSafe car mount.
With that, let's explore some frequently asked questions about this innovative technology.
Frequently Asked Questions About MagSafe
What is MagSafe Car Mount?

The MagSafe Car Mount is a magnetic car mount for your phone. In short, it allows you to mount your phone while driving and supports wireless charging.
The car mount lets you access your car's GPS and enables you to see who may be trying to reach you while driving.
"I installed my Active Wireless Car Mount with very little effort. As a result, my iPhone is easily accessible and always fully charged. The vent mount allows placement directly in my line of sight, hence reducing the need to glance away to view the iPhone screen. Lastly, the magnetic mount makes securing the iPhone to the mount truly a snap!" — Verified Buyer.
Does MagSafe Car Mount Work With a Case?

Yes, but it has to be a
compatible case
. Incompatible cases won't secure properly, and by using them, your phone is at risk of falling off the MagSafe mount during transit.
Is MagSafe Strong Enough for Car Mount?

Any official MagSafe product is strong enough for a car mount.
Here's what one buyer said about our car mount's strength:
"The grip machinist is the best I have used. It has a little claw on the end to insure it doesn't slip off the car's vent louvers." — Verified Buyer
One reviewer took a look at our model and covered the strength of the car mount in his review. Here it is:
As you can see demonstrated in the video; it's very unlikely your compatible iPhone will fall off while driving.
Can MagSafe Be Used on iPhone 11 Pro?

To an extent. MagSafe can be used as a QI Charger on any iPhone 8 or later model. However, the magnetic feature only works with iPhone 12 or greater.
Are MagSafe Chargers Safe?

Absolutely. MagSafe chargers can hit up to 15w charging wattage and only use a small amount of voltage. This means there's very little danger of MagSafe technology damaging your phone itself.
However, according to Apple's
official website
:
"Don't place credit cards, security badges, passports, or key fobs between your iPhone and MagSafe Charger, because this might damage magnetic strips or RFID chips in those items."
MagSafe compatible cases won't have an area for your bank cards — but if you're not using a compatible case, be sure to remove your iPhone before attaching it to the MagSafe.
Do iPhone 13 and iPhone 13 Pro Support MagSafe?

The iPhone 13 will not only support MagSafe — but also a stronger version of it.
We're already super confident that the MagSafe technology makes for the most robust car mounts, so we're really excited to see just how strong the iPhone 13 version of MagSafe is.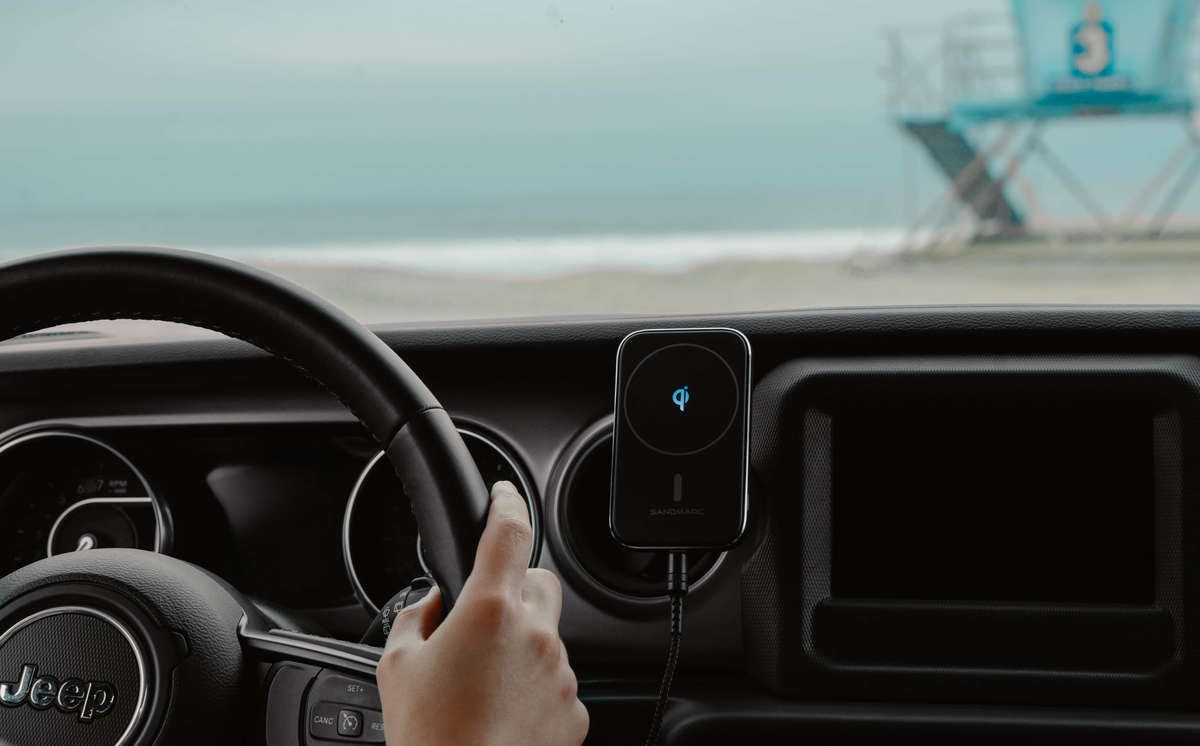 Start Wirelessly Charging While You Drive
MagSafe technology isn't only easy to use; it's safe, too.

Our magnet enabled Active Wireless Car Mount is designed with a secure magnet that remains firm throughout your journey— even on the bumpiest of roads.

We've put a quick demo together here:
The product is compatible with the following iPhone models:
● iPhone 13 Pro Max
● iPhone 13 Pro
● iPhone 13
● iPhone 13 Mini
● iPhone 12 Pro Max
● iPhone 12 Pro
● iPhone 12
● iPhone 12 Mini
You can even use our MagSafe car mount with an official MagSafe case — just attach your phone to the MagSafe car mount and drive.
Want more tips and expert iPhone advice? We share more insights on our
blog
.