Filmmaking Ideas: How to Create an Astronaut Scene
Your scene will look out of this world.
We created an astronaut scene on TikTok with eye-catching lighting effects. This is a great opportunity to learn how to effectively use lighting in your videos. The more you practice creating videos on your iPhone the better you will become. Doing challenges like the one we are about to show you is a great way to practice.
Watch Video
Where do you begin?
Before you start to film, pre-production is an important part of the filmmaking process. This is the time to create shot lists, and storyboards. It will help save time once you begin shooting, and keep you productive.


You create a storyboard to sketch out each scene you will shoot, followed by descriptors for each scene. A shot list is a list you create for each scene with the props and equipment you will need.
Props
When looking for props we recommend going to thrift shops to find the best deals. Amazon is also a great spot to find items. A tip for props is to remember that you don't have to always buy the actual item you are portraying. Instead of an astronaut suit, our creators used a white puffer jacket to make the astronaut costume.
White Puffer Jacket
Astronaut Helmet
Flashlight
Black Backpack
Background
The background is important in ensuring that the lighting is perfect and that the surrounding area is aligned with the theme of choice. Like the props, the items used in the background can be found at a thrift shop, or Amazon.
Black Backdrop
Iron Grate
Stool
Light
Off-Camera Equipment
2 Light Sources: Lighting is a great tool to use to manipulate your scene. In the TikTok video, our team used two light sources to reflect in the glass of the helmet. This helps to provoke more curiosity as to what our astronaut is looking at.


RGB Mini:
RGB lighting is ideal for filming, because of the various colors you can use to set the mood of the scene. The RGB mini is the perfect compact lighting tool to take with you anywhere. For the astronaut scene, our team used the blue lighting option to create a space mood.
Anamorphic Lens:
The SANDMARC anamorphic lens is perfect for filming with a cinematic lens flare. The lens elevates the iPhone camera and gives you the opportunity to film quality videos.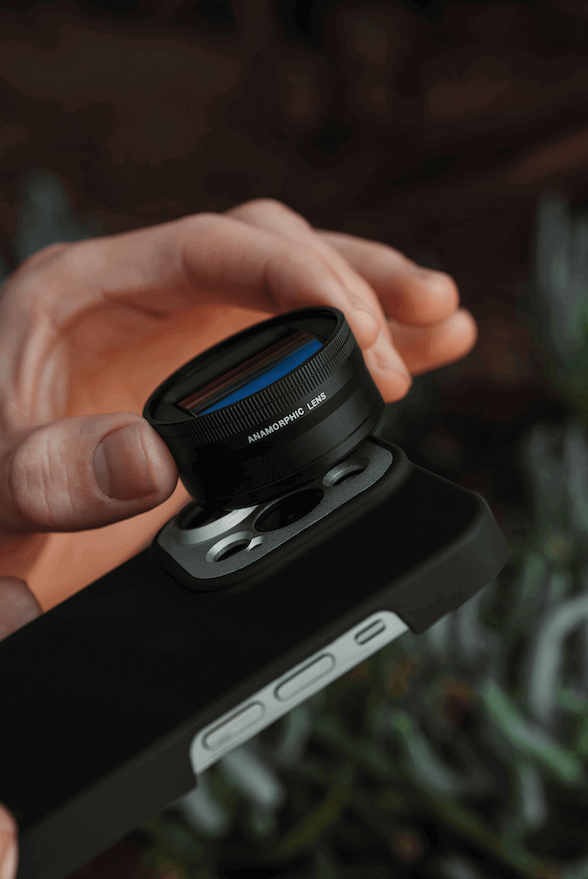 As our filmmaker said in the video, you will have to try out multiple angles to get the perfect shot. With patience, time, and determination you will perfect the astronaut scene.
We've listed more SANDMARC gear below.


Tripod
-
Hands-free shooting will allow for more versatility, especially if you don't have many models available.