4 Essential iPhone Accessories for Vloggers
Beginners Guide to Vlogging on iPhone
Content Creators spend a lot of time and money on video production. After All, there is a lot of pressure to produce high quality content that will attract viewers. However, camera equipment is expensive and not always practical for creators who are just starting out.
You don't need to invest thousands of dollars in pricey camera gear to set up a youtube studio. Just using your iPhone camera along with a few accessories you can start recording high quality videos with minimal startup costs.


Here are four accessories every iPhone vlogging kit should have:
1. Led Light Panel + Diffuser
The most fundamental element for capturing quality video content is good lighting. Video lighting can also be one of the biggest challenges for vloggers. Due to the unpredictable filming environment of vloggers the average studio lighting equipment isn't suitable.


The typical softbox and LED video lights used in youtube studios are large and require a power source. Since vloggers are often on the move they require a lighting solution that is portable and rechargeable.
Both the Bi-color and RGB Prolight are 4.4"x 2.8" x 0.53 in dimension. These powerful pocket sized LED panel lights can be used as either a fill or key light. The
Prolight Series
makes controlling the lighting conditions easy regardless of where you are. The Prolight is built with a rechargeable battery that can last up to 90 minutes at maximum output.
Each light comes with a silicone diffuser, hot shoe mounting system, USB-C charging cable, and microfiber pouch. Using the silicone diffusers you can turn the LED panel light into a soft light source. The clamp on the hot shoe mount can be conveniently placed directly on the screen of an iPhone or iPad.
2. Lens Attachments for iPhone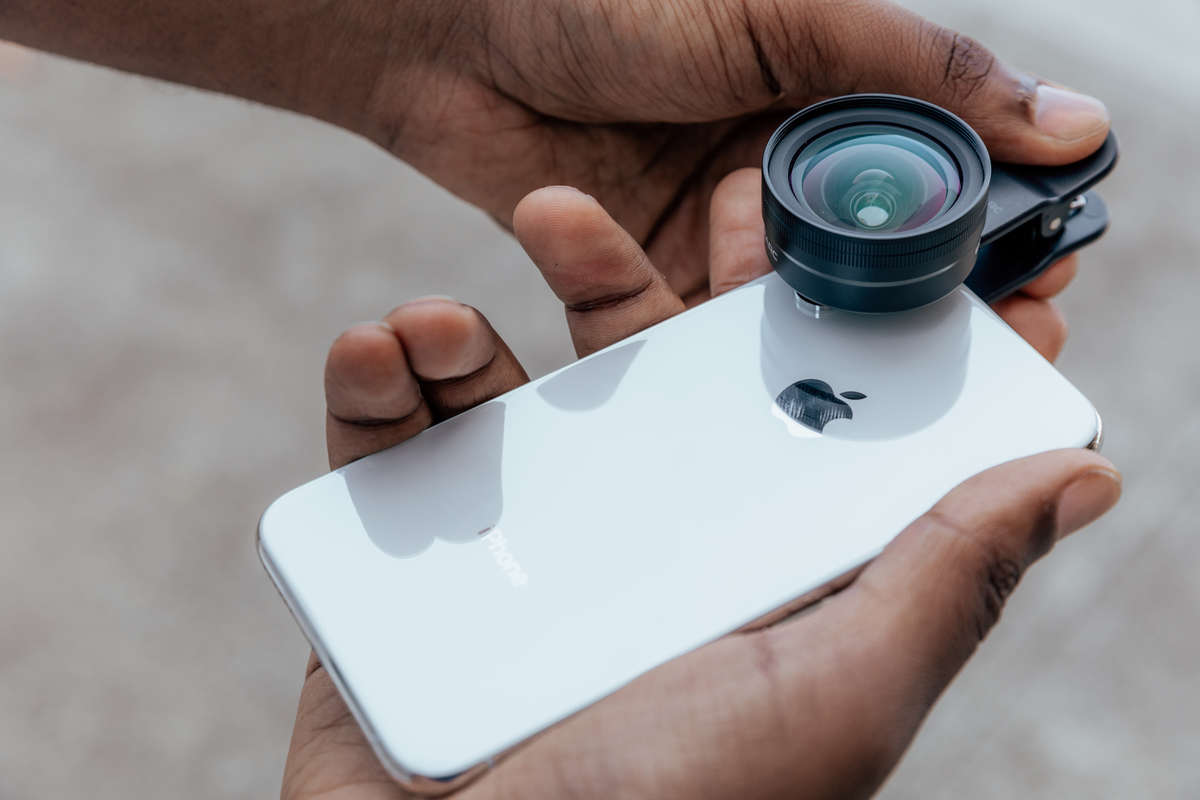 After figuring out lighting the next step is to optimize video quality. The camera used for recording has a huge impact on the resolution of the video. The starting costs for a good vlog camera is around $500. This excludes the additional cost of memory cards.


Instead of buying a new digital camera or camcorder just use the high powered camera in your pocket. With every new iPhone release Apple continues to significantly increase the capabilities of the iPhone camera.


Many iPhone vloggers run into issues trying to create an angle of view that includes their background. Instead they take up the whole frame. iPhone lens attachments such as the
wide angle lens
and
anamorphic lens
are popular among iPhone filmmakers. Both these optics create ultra wide aspect ratios that create a better frame for capturing horizontal footage.
SANDMARC's iPhone lens attachments are made of lightweight aluminum and durable multi-element glass. Each lens comes with a case and clip where you can mount the lens attachment. The clip also allows for the option to move your lens to the front iPhone camera. Which is a great option for someone who wants to watch themselves record.
Without good audio video content basically becomes useless. Like a DSLR camera, you can use an external microphone with an iPhone to improve the audio recording in videos.
The
Rode VideoMic Me-L
is a small but mighty directional microphone. This lightning port mic comes highly recommended for iPhone users and is available at
Apple
,
Amazon
, and
Best Buy
. Compared to other external microphones for iPhone, the Rode Mic is discrete, portable, and fairly priced.
This directional microphone for iPhone works by eliminating background noise and focusing on the subject in front of the camera. It comes with a furry windshield that stops the mic from picking up wind noise. The Me-L has an update that includes a 3.5mm headphone jack which creates the option to monitor audio.
Using the clip the Rode VideoMic can be snapped onto an iPhone or iPad. It can be used with any IOS device with a lightning connector or with IOS 11. Like the SANDMARC lens attachments, this mic comes with a lightweight aluminum body that protects it from wear and tear.
This particular microphone is valuable due to its compact size, impressive quality, and the included accessories. This external microphone retails for around $80+ tax. This isn't too expensive considering the Rode VideoMic comes in a three piece kit with a windshield and mount.
The last step before its time to start recording is stabilizing the camera. Many youtubers use tripods in their studios to support their heavy DSLR cameras. However, there exists many other feasible options as far as iPhone mounting systems go.


Vloggers are faced with unique challenges when filming because they're almost never in a studio. Stabilizing your frame is easy in a studio setting but takes planning for anyone who shoots on the go.
For someone who is going to be filming themselves outside a studio it's practical to use a stabilizing
pole
with an extendable arm. This frees up one hand while also allowing the videographer to adjust the length and angle that they're filming at.
One level up from the pole is a rig. The
SANDMARC film rig
is the ultimate unifying mounting system. Its design can support iPhones, compact cameras, GoPros, microphones and even your LED panel lights. This stabilizer can be held by both sides and or mounted on a tripod. Plus, no counter balance needed!
Moving forward...
Hopefully this guide provides tips and inspiration for creators who want to shoot better videos on their iPhone. Video production has multiple components that all work together to create good videos. Image quality, video lighting, audio recording, and angles all contribute to the final outcome.


With the addition of a few key accessories vloggers are able to create videos that quickly grow in quality. Uploading videos to youtube can take courage. With the right set up it can make the process less stressful and more rewarding.


Check out these blogs for more information on related topics: