Top 5 Photo Editing Apps for iPhone
2020 Guide to PhotoEditing Software

The App store is saturated with hundreds of different photo editing apps. Knowing which ones are worthwhile can be a challenge. Many of the apps in the photo and video category seem similar but actually perform in very different ways. This article will break down the five best photo editing apps for the iPhone in 2020.
1. Focos
DSLR & Bokeh & Large Aperture
The Focos app offers many advanced editing features that make shooting on your iPhone comparable to using a DSLR camera. Focos is the perfect app for iPhone photographers that often shoot in portrait mode. Using the tap to focus feature you can choose which objects are emphasized.


Focos also allows you to bring objects forward in focus by adjusting the depth map. Although the Focos App cannot alter the iPhone camera lens it can add artificial effects. Using a digital bokeh photographers can create lens distortions without a special optic.
You can download
Focos
for free on IOS but for unlimited access to all the features it costs $12.99. Overall this app has a rank of 4.8 stars based on 21K ratings. Its 3D imaging and professional photo technology makes it a strong contender amongst other photo and video editing softwares.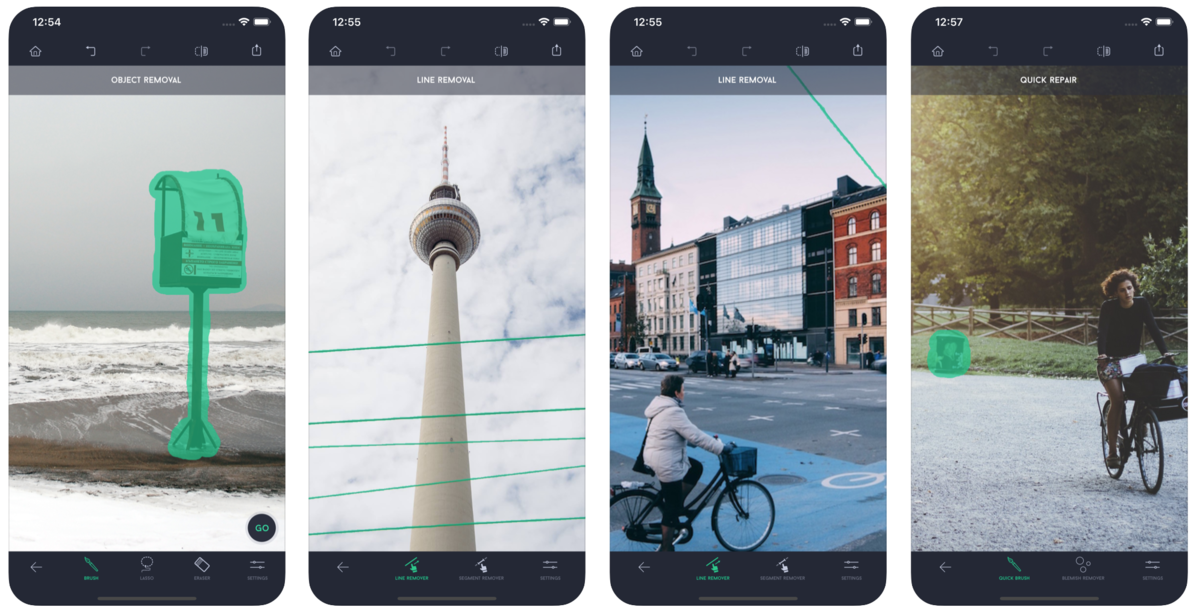 The TouchRetouch app is a photo editing software that allows you to declutter your photos by removing unwanted content. Using the quick brush or segment remover you can select objects in your picture that you wish to erase.
Perhaps one of the most useful functions of the TouchRetouch app is the line remover. The app can auto detect lines going through your image and remove them. This is very useful for concert photos or city landscapes with cable lines in the background.


TouchRetouch is a very popular photo editing app among IOS users. It ranks in the app store as #2 in the Photos and Videos category and has 4.8 stars with almost 18K ratings. You can download
Touch Retouch
in the app store for a one time payment of $1.99.
3. VSCO
Creative Tools & Video Stories
VSCO is one of the most well known photo editing apps for the iPhone. With over 200 presets for premium members this app has a filter for every type of picture.
Many of the VSCO presets come with the option to adjust character, warmth, and strength. Not to mention the app includes an adjust tool for contrast, exposure, saturation, highlights, grain and more. VSCO combines the basics of photo editing with their social network to create a space for iPhone creators to post their edits.

VSCO has a 4.3 star ranking with over 36K ratings. It slides in at #14 in photo and video apps for IOS.
VSCO
can be downloaded for free in the app store but a premium membership costs $19.99/year.
4. PicsArt
Sticker, Meme & Collage Maker
PicsArt is an all in one photo editor that combines many of the features offered by other apps. From photo effects to collages & stickers, PicsArt is a one stop shop for all your mobile editing needs.
Like TouchRetouch, PicsArt also has a tool for erasing backgrounds and cutting out objects. However, one of the apps most unique features is its ability to create double exposures by blending photos. Plus, PicsArt lets you add text and has over 200 fonts to choose from.


PicsArt ranks #4 in the app store for Photo and Video and has over one billion downloads. It ranks 4.7 stars based on over 427K ratings deeming it a very reliable photo editing software. There is a free version of
PicsArt
available for download in the app store. However, to unlock advanced tools you might be required to make in-app purchases. The packages offered by PicsArt range from $3 to $60.
This simple and easy to use app is designed with fundamental tools that every iPhone photographer needs. The limited effects and straight forward interface of Snapseed makes it a great photo editing software for beginners.


The brush tool creates the ability to fine tune by selectively changing your image. By brushing over part of an image you can edit ratios such as contrast, exposure, saturation, and more.
Like the Focos app, Snapseed is great for adding focus to an object in your picture. However, Snapseed is a much more basic photo editing technology than Focos app which has numerous advanced capabilities.


Snapseed is an underrated photo editing software and only ranks #51 in photo and video apps. With only 5K reviews and 3.9 stars Snapseed is still gaining recognition among IOS users. You can download
Snapseed
for free in the app store with no in-app purchases required.
Resources
For more information on related topics check out the resources below: