SANDMARC Pole - Metal Edition
Take your GoPro shots to the next level. With an All-Aluminum build and extending from 15-50", the Metal Edition is designed for professional athletes, filmmakers and photographers. Features a convenient remote holder for seamless GoPro footage.
For pole comparison, click HERE.
☉ SANDMARC Pole
☉ Adjustable Strap
☉ Waterproof and Salt Proof
TECHNICAL DETAILS
☉ Secure Locking Mechanism
☉ Retracts 15", Extends 50"
☉ 10 ounces / 0.26 kgs

COMPAIBILITY
☉ GoPro HERO 11 BLACK
☉ GoPro HERO 11 Mini
☉ GoPro HERO 10
☉ GoPro HERO 9
☉ GoPro HERO 8
☉ GoPro Max
☉ GoPro HERO 7 Black/Silver/White
☉ DJI Osmo Action
☉ GoPro HERO 6 Black
☉ GoPro HERO 5 Black
☉ GoPro Session
☉ GoPro HERO4 Black
☉ GoPro HERO4 Silver
☉ GoPro Session
☉ GoPro HERO 3+ / 3 / 2 / HD
☉ SANDMARC Pole
☉ Aluminum Tripod Mount
☉ Aluminum Thumbscrew
☉ Remote Holder Clip
RETURN POLICY
If, for any reason, you're not completely satisfied, you can return your item and receive a full refund within 30 days of delivery. The item you are returning must be repackaged and is in the original condition you received it. Returns are not allowed for the purpose of getting a future promotional deal. 
UNITED STATES
We offer free shipping for all US orders. Business days refers to Monday - Friday excluding holidays.

☉ Free Shipping (3-5 Business Days)
☉ 2nd Day - $19 (2 Business Days)
☉ Overnight - $29 (1 Business Day)

Orders made on Friday for overnight shipping will arrive Monday as most carriers do not deliver on Saturdays. 2nd Day orders will arrive the following Tuesday.

INTERNATIONAL
☉ Standard - $19.95 (1-2 Weeks)
☉ Express - $40 (3-7 Business Days)

For all international shipments, the standard delivery time is 2-3 weeks depending on customs clearance. Note that there are countries that we only offer DHL or FedEx shipping due to issues of the postal delivery system. All international DHL & FedEx shipments cost $40.
Designed for professional athletes, filmmakers and photographers.
Extending from 15" to 50" and weighing just 10 Ozs, you can take close and wide angle shots while traveling, surfing, diving, snowboarding, skiing and much more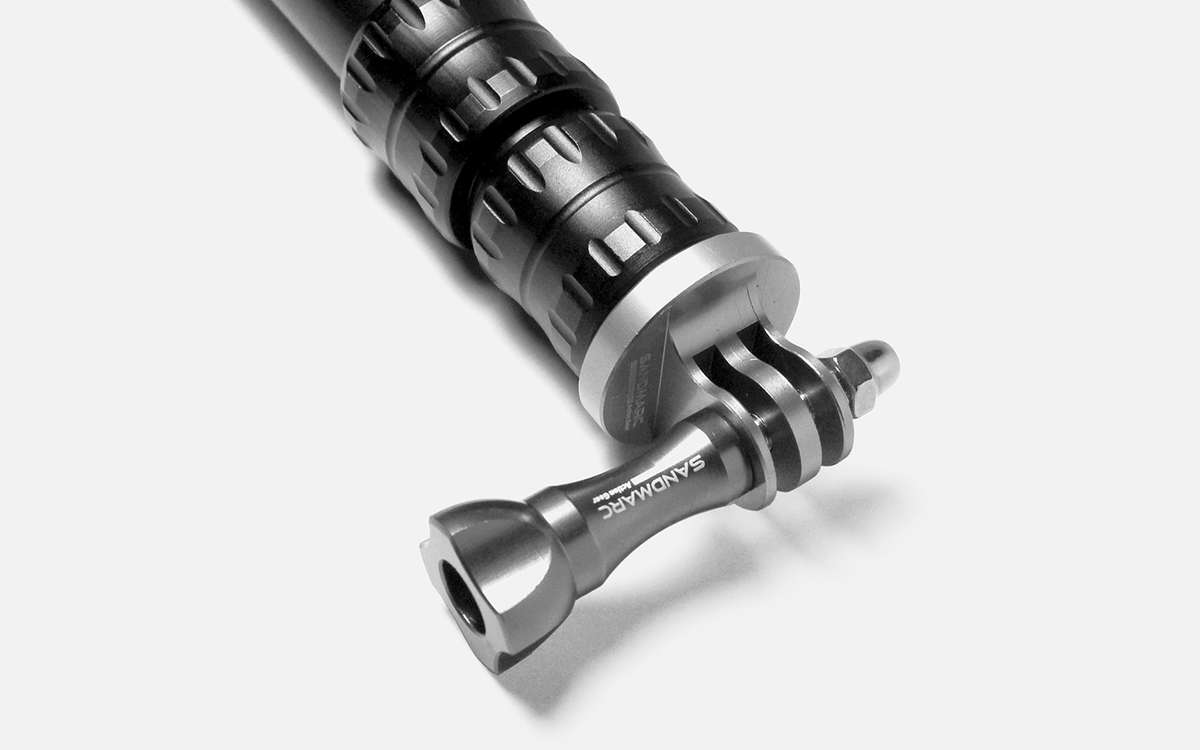 Industrial CNC Aluminum Build - Made from Waterproof Aluminum Material, Rubber Grip, Adjustable Wrist Strap, Aluminum Tripod Mount and Aluminum Thumbscrew
Customer Reviews
Write a Review
Ask a Question
Filter Reviews:
pole
quality
aluminum
tripod stick
footage
price
shots
variety
stuff
metal
02/02/2021
Anonymous

United States
50 inch selfie stick
Without exaggeration, it's the best available on the market compared to all the cheap stuff you can get on Amazon. It just feels like quality and something that's going to last.
Perfect
and perfect again
Metal pole edition
Great product very happy with it
Very Sturdy
100% better quality than the original go pro tripod stick. The go pro appears to be made of plastic. This stick is all aluminum. I didn't read the full details and I thought I dropped the remote, sadly to say it's not included. I'm in love with this pole. I'm going to Jamacia 2-14-19 I'm sure with the new pole and go pro 86.00 bucks remote.. I should be very happy.