Aqua Filter - Hero 4 / 3+
Featuring five interchangeable filters at varying depth, the Aqua Filter is the most versatile filter set for your diving adventures. Includes 5 filters in one set.
☉ Yellow Filter
☉ Magenta Filter
☉ Red Filters
TECHNICAL DETAILS
☉ Yellow Filter for Night Diving
☉ Magenta Filter for Green Water
☉ Red Filters for Blue Water
☉ 5-20 ft, 20-50 ft, 50+ ft

COMPATIBILITY
☉ GoPro HERO4 Black
☉ GoPro HERO4 Silver
☉ GoPro HERO+ LCD
☉ GoPro HERO+
☉ GoPro HERO 3+
☉ All Models above in Standard GoPro Housing Only
☉ Yellow Filter
☉ Magenta Filter
☉ Red Filters
☉ Frame for swapping filters.
☉ Tether and Microfiber cloth included
RETURN POLICY
If, for any reason, you're not completely satisfied, you can return your item and receive a full refund within 30 days of delivery. The item you are returning must be repackaged and is in the original condition you received it. Returns are not allowed for the purpose of getting a future promotional deal. 
UNITED STATES
We offer free shipping for all US orders. Business days refers to Monday - Friday excluding holidays.

☉ Free Shipping (3-5 Business Days)
☉ 2nd Day - $19 (2 Business Days)
☉ Overnight - $29 (1 Business Day)

Orders made on Friday for overnight shipping will arrive Monday as most carriers do not deliver on Saturdays. 2nd Day orders will arrive the following Tuesday.

INTERNATIONAL
☉ Standard - $19.95 (1-2 Weeks)
☉ Express - $40 (3-7 Business Days)

For all international shipments, the standard delivery time is 2-3 weeks depending on customs clearance. Note that there are countries that we only offer DHL or FedEx shipping due to issues of the postal delivery system. All international DHL & FedEx shipments cost $40.
FILTERS & UNDERWATER PHOTORAPHY

The deeper you dive underwater, the more the loss of color. This happens because water is approximately 800 times as dense as air. This dense nature of water significantly hinders light when descending underwater.

To bring color back to your underwater photos, you will need filters depending on the depth and type of water. Although the most common color correction filters are red filters, it is important to carry different filters as you cannot predict what kind of water you'll encounter.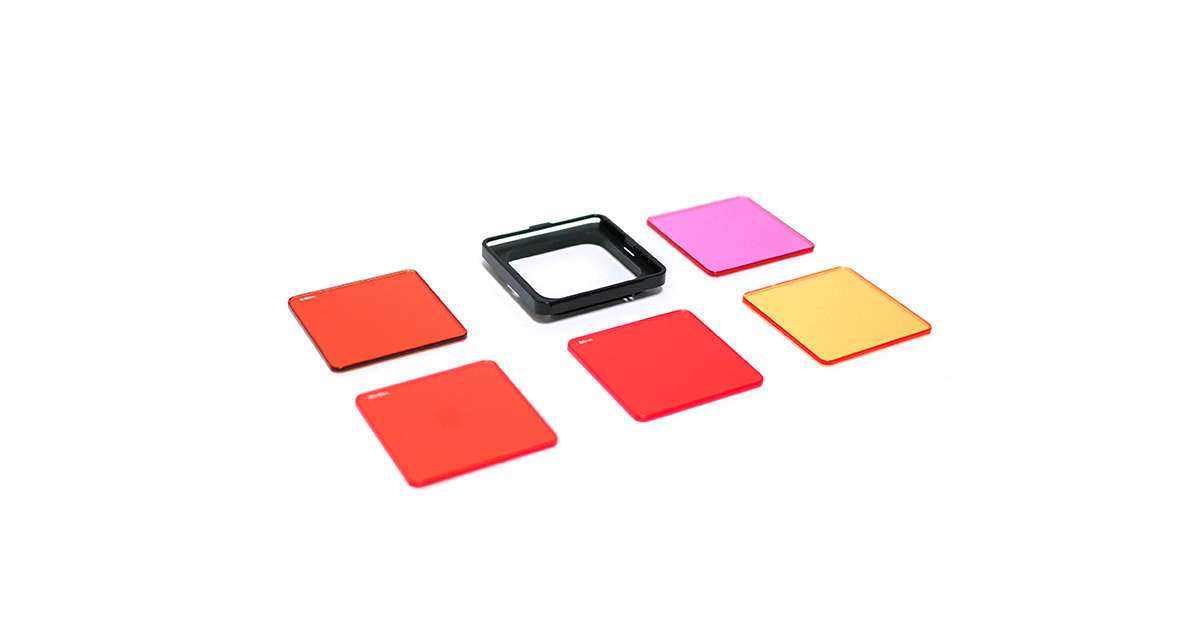 The Aqua Filter includes 5 filters:


Red Filters (3 Pack): Optimized for use in blue water.
Magenta Filter: Optimized for use in green water.
Yellow Filter: Optimized for use in night diving.