Procharge - Hero 4/3+
Allowing you to charge your GoPro Hero 4, Hero 3+ Batteries and GoPro Wifi Remote, the Procharge is the first all-in-one triple charger for your GoPro camera.

Dual LED lights indicating full charge for your GoPro Hero 4 and Hero 3+ cameras.
RETURN POLICY
If, for any reason, you're not completely satisfied, you can return your item and receive a full refund within 30 days of delivery. The item you are returning must be repackaged and is in the original condition you received it. Returns are not allowed for the purpose of getting a future promotional deal. 
UNITED STATES
We offer free shipping for all US orders. Business days refers to Monday - Friday excluding holidays.

☉ Free Shipping (3-5 Business Days)
☉ 2nd Day - $19 (2 Business Days)
☉ Overnight - $29 (1 Business Day)

Orders made on Friday for overnight shipping will arrive Monday as most carriers do not deliver on Saturdays. 2nd Day orders will arrive the following Tuesday.

INTERNATIONAL
☉ Standard - $19.95 (1-2 Weeks)
☉ Express - $40 (3-7 Business Days)

For all international shipments, the standard delivery time is 2-3 weeks depending on customs clearance. Note that there are countries that we only offer DHL or FedEx shipping due to issues of the postal delivery system. All international DHL & FedEx shipments cost $40.
Customer Reviews
Write a Review
Ask a Question
The WHOLE set!!
I purchased the Travel edition package for my Hero 4 Silver along with the Pro Travler Adapter AND the ProCharge! I tip my hat off to Sandmarc for such great quality products and fast shipping! Highly recommended!
Holy help
Was good now I just need this gadget and one wire to charge my batteries and control so I save space in the case and don't need many plugs.
Procharge 4/3+
I am currently on a trip to Thailand, Cambodia, and Vietnam. During the trip we have been doing a lot of experiences Tiger Kingdom, Elephant Sanctuary, and many many temples where I will go through two GoPro batteries and remote battery in a single day. The procharge easily lets me return to my room at night and make sure everything is charged for the next day. It has easily taken an annoying process of making sure everything is charged to an unbelievably easy level. Great product that has the same high quality of all the other SandMarc products I own.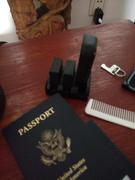 The Procharge is Essential!
Finally! I'm able to charge two batteries and my remote at the same time! The Procharge is essential to my video needs while saving me time, and not having multiple cords laying around.
Great product
Once the issue with the extra customs payment had been sorted and I had received the item I was very happy. Its a great bit of kit and very handy for dive trips when batterier run out quickly!