Best Photo Editing Apps For iPhone in 2023
Guide to Photo Editing on iPhone
What are the best photo editing apps for IOS? With so many different photography apps available in the app store it can be hard to know which to choose. Here's a breakdown of five of the top photo editing apps available for iPhone.
1. VSCO
Creative Tools & Video Stories
VSCO is a very user-friendly filter app for photographers of any level. With a membership VSCO offers over 130+ filters ranging from B&W to classic film and beyond. Each preset has adjustable strength so users can easily customize filters.


VSCO also comes with editing tools including: crop, contrast, exposure, tone, clarity, grain and many more. Their gallery style studio makes it easy to see all your current and past projects. Plus, you can mark all your favorite presets with a star!


VSCO combines the basics of photo editing with their social network to create a space for iPhone creators to share their edits. VSCO has a 4.6 star ranking with almost 96K reviews. It slides in at #27 in photo and video apps for IOS.
VSCO can be downloaded for free in the app store
but a premium membership costs $19.99/year.
2. Adobe LightRoom CC
Photo Editor & Picture Presets
Adobe LightRoom is the best option for advanced photographers. With complex editing tools and a user-friendly interface, Lightroom is the perfect app for anyone looking to switch from editing on desktop to mobile.


This app offers a range of presets, a pro-level camera, advanced photo sharing, smart organization for photos and so much more. This comprehensive photo and camera app has all the pro features you need in one place.


The TouchRetouch app is a photo editing software that allows you to declutter your photos by removing unwanted objects. Using the quick brush or segment remover you can choose objects to remove from the forefront or background of your photo.


Perhaps one of the most useful functions of the TouchRetouch app is the line remover. The app can auto-detect lines going through your image and remove them. This is very useful for concert photos or city landscapes and makes it a great app for beginner photographers.


Although it is more simplistic compared to other photo apps, TouchRetouch is ranked #2 in the app store in the Photos and Videos category and has 4.8 stars with more than 21K reviews.
You can download Touch Retouch in the app store
for a one time payment of $1.99.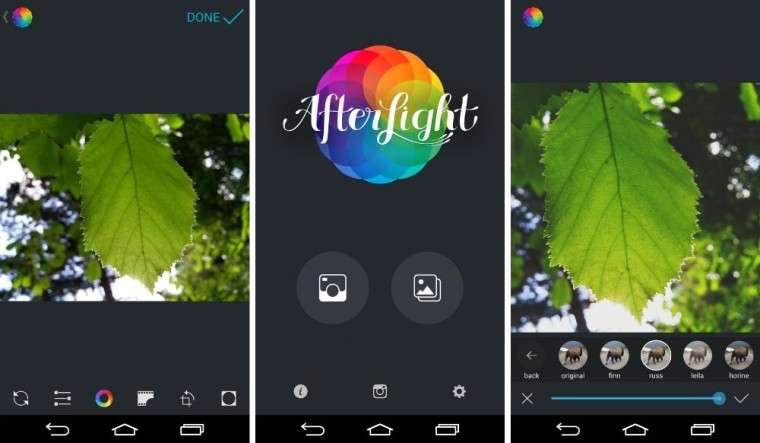 Afterlight is a great all-purpose photo editing app for intermediate to advanced photographers. The simple interface makes it easy to use despite the wide variety of editing tools.


Afterlight comes with more than 130 unique filters and 60 texture overlays. Two of the more advanced features include the double-exposure effect for blending images and the layering tool for adding text overlay or other artwork.


Afterlight is a well established photo editing app which has been around for years. It only ranks #160 in photo and video apps but has a 4.7 star rating with almost 12K reviews.
You can download Afterlight in the App store for free
. Access to their unique features and advanced tools requires a monthly subscription for $2.99.
This simple and easy to use app is designed with fundamental tools that every iPhone photographer needs. The limited effects and straight forward interface of Snapseed makes it a great photo editing software for beginners.


The brush tool creates the ability to fine tune by selectively changing your image. By brushing over part of an image you can edit ratios such as contrast, exposure, saturation, and more. Snapseed is also great for adding focus to your image to draw attention to different parts of your photograph.


Snapseed is an underrated photo editing software and only ranks #37 in photo and video apps. With less than 6K reviews and 3.9 stars, Snapseed is still building its reputation as one of the best apps for editing photos on iPhone.
You can download Snapseed for free in the app store
with no in-app purchases required.
Photo and video editing apps are a great way to add stylistic elements to your work. From erasing unwanted background objects to adding light flares there's an app for everything.


Apart from enhancing your photography during post-production editing, you can also add accessories to your iPhone camera to help you achieve your vision. SANDMARC makes a variety of iPhone lenses and filters which can be clipped directly over any smartphone camera. From polarizing filters to fisheye lenses, SANDMARC's camera accessories will take your iPhone camera to the next level.
Resources
For more information on related topics check out the resources below: